On The Map
The Avenza Maps Blog
Hannah Wilson Makes Art on Maps
We had the chance to speak to Hannah Wilson, a wilderness instructor and an artist that is dedicated to creating paintings on maps. As someone with a passion for the outdoors, she could never imagine herself working in front of a computer. So instead, she decided to go on a journey to connect with her inner creativity and became a full-time artist!
5 Monuments for Remembrance Day
Every year, Canadians recognize Remembrance Day on November 11th at 11:00 am. Canadians pause for a moment of silence to honour the men and women who served and continue to serve our country during times of war and conflict.
Top 3 Haunted Places to Explore with Avenza Maps
As we are nearing the end of October, spooky season is officially upon us, as thrill-seekers and fans of everything scary get ready for Halloween. While haunted houses can be fun to explore, those looking for an extreme adrenaline rush may be surprised to know there are places all around the world that are haunted year-round.
How the Seismic Exploration Industry rocks with Avenza Maps
Avenza Maps has always been an app designed to help hikers, bikers and campers never get lost on their adventures, but we have never forgotten the professional uses of our app. Emergency responders, transportation or conservation and recreation are just a few of the examples of industries we have been working with side by side. Today we will be talking about a different one: seismic exploration with Cornelius Morris, Avenza Maps Pro user.
Maps to Enjoy the Best Fall-Foliage
The end of summer means shorter days, cooler evenings and pumpkin spice season in North America, but it also means leaf peeping season. What is leaf peeping? It's an informal term we use to describe when people travel to view and photograph the fall foliage in areas where leaves change colours in autumn.
How to Use Avenza Maps Draw and Measure Tool
As technology continues to develop, how information is presented to users continues to change as well. People began moving away from using print maps to digital ones in the 1980s. This unlocked the ability for users to interact with maps rather than simply read them. One of the ways people interact with maps is by using the Avenza Maps draw and measure tool.
Looking for waterfalls around Australia with Avenza Maps
During the workweek, Leanne Sinclair works as a lawyer for Victoria Legal Aid, an organization working to support those in need. But when the weekend arrives, she becomes an avid hiker, waterfall hunter and curious adventurer, or as she's known on Instagram, @lealea.st.clair.
Celebrating National Indigenous Peoples Day
Today, June 21st, we celebrate National Indigenous Peoples Day. This is a day for all Canadians to recognize and celebrate the unique heritage, diverse cultures and outstanding contributions of First Nations, Inuit and Métis peoples, the three groups recognized as Aboriginal or Indigenous peoples.
The Best Pride Parades Around The World
Every month of June, the whole world comes together as one to celebrate Pride Month. One way to celebrate is with massive parades, thrown all over the world, and we have created a list of the best ones to grab the rainbow flag and celebrate acceptance.
Say Hello to the All-new Avenza Maps
With more than a decade of experiences, journeys and stories behind us, we're proud to share our vision of the future with you. Today, we're excited to reveal even more details about the steps we're taking in our evolution to bring you a brand new Avenza Maps!
Surviving Challenging Weather Conditions on the Lost Coast Trail While Navigating to Safety with Avenza Maps
In December 2015, Greg headed out on a solo backpacking trip on the Lost Coast Trail in the King Range National Conservation Area of northern California. The forecast called for a few days of rain with moderate wind conditions but he felt properly prepared for the trip overall. With his experience, he felt it was too dangerous to pass certain sections of the trail with higher than normal tides so he decided to change routes. That is when he faced even more challenging conditions that threatened his survival.
The Best 10 Maps to Ski in the Alps
From Nice to Vienna, Europe is covered in mountains formed over tens of millions of years. The Alps have become the perfect place for ski lovers, being the highest and most extensive mountain range on the continent. Topping at Mont Blanc, with 4,807 metres, the Alps start at sea level and five different times (and countries) have hosted the Winter Olympics in the last century, including Milano, where the 2026 Games will take place.
Navigating Full-Time Van Life on the Road Using Avenza Maps
In 2020, both Cortnie and Mike decided to leave their corporate jobs and started planning for a completely different life: one on the road. "We were tired of the corporate rat race and wanted a new challenge". So they decided to go all-in on their next adventure.
Take control of your data with Avenza Maps
Whether you're looking for the best way to stay on top of your outdoor trip, or you want a reliable tool out in the field, look no further! Avenza Maps is a great app for collecting data no matter where you are.
The Best Maps to Enjoy Australian Beaches
While the North Hemisphere survives the Winter, freezing temperatures and snowstorms, there is still an island in Oceania living upside down. Australia is the sixth biggest country in the world by landmass, home of the Sydney Opera House, the Great Barrier Reef and some of the most beautiful beaches on the planet.
5 Features You May Not Know About in Avenza Maps
Our most active Avenza Maps users already know this, so we wanted to give you more insight into some of the other great features available that you may not know about yet. We're confident that these features will take your outdoor activities up a notch!
Winter Outdoor Safety Tips to Get Ready for Your Next Cold Adventure
Cold weather has never been an excuse for adventurous people to go outdoors to find the next challenge. There is snow, freezing winds, and ice everywhere but the intrepid inner you do not really care about any of it, it just wants to discover new experiences out there, especially in countries where winter hits harder.
How To Read A Map
The basics of reading a map are simple enough to understand, and we've broken it down to help make it even easier! Don't be intimidated by new terminology or mountains of coordinate types any longer.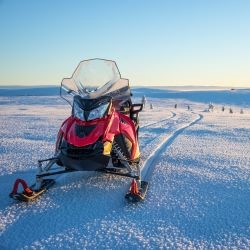 How To Use A Compass
A compass or a compass rose on a map is often simply two lines and four letters, but they are critical for every map and form the basis of all modern directional navigation.
How to Prep for Your Next Off-Roading Trip
Going on an off-roading or overlanding adventure is one of the most exhilarating things that you can do in your life. We've put together a list of some helpful tips that can help you have a safe and successful off-road trip.
How to Use Maps to Find the Best Fishing Spots
What are your go-to fishing tools to help you find the best spots to spend a day fishing? Fish finders have their place, but not everyone has one or is able to or interested in buying one. Have you considered using maps to locate excellent places to cast your line?
9 Maps You Need 2021 Hunting Season
When summer ends, as September becomes October, some traditions return. Halloween, hunting season, and Thanksgiving are three of the most common in the United States. Today we are going to discover some of the best maps to help during your hunting adventures.
Celebrating National Emergency Services Day
Volunteers are an essential part of the emergency services family as they play a core part in keeping Britain safe. Some volunteer roles celebrated today include: Special Constables, Retained Firefighters, NHS Community Responders, St John Ambulance, RNLI, Search and Rescue, and Coastguard volunteers.
You Are Here: Delivering Custom Digital Maps to Your Device with QR Codes
With only a few taps you can immediately access and download the maps you need to start your adventure faster than ever. Using strategically located QR codes placed at trailheads, park entrances, visitor centers, or even on path markers located mid-trail, a user simply needs to scan the QR code with their camera or QR code reader, and they will automatically be provided access to the relevant map product for that location.