On The Map
The Avenza Maps Blog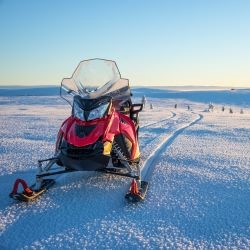 How To Use A Compass
A compass or a compass rose on a map is often simply two lines and four letters, but they are critical for every map and form the basis of all modern directional navigation.
How to Prep for Your Next Off-Roading Trip
Going on an off-roading or overlanding adventure is one of the most exhilarating things that you can do in your life. We've put together a list of some helpful tips that can help you have a safe and successful off-road trip.
How to Use Maps to Find the Best Fishing Spots
What are your go-to fishing tools to help you find the best spots to spend a day fishing? Fish finders have their place, but not everyone has one or is able to or interested in buying one. Have you considered using maps to locate excellent places to cast your line?
9 Maps You Need 2021 Hunting Season
When summer ends, as September becomes October, some traditions return. Halloween, hunting season, and Thanksgiving are three of the most common in the United States. Today we are going to discover some of the best maps to help during your hunting adventures.
Celebrating National Emergency Services Day
Volunteers are an essential part of the emergency services family as they play a core part in keeping Britain safe. Some volunteer roles celebrated today include: Special Constables, Retained Firefighters, NHS Community Responders, St John Ambulance, RNLI, Search and Rescue, and Coastguard volunteers.
You Are Here: Delivering Custom Digital Maps to Your Device with QR Codes
With only a few taps you can immediately access and download the maps you need to start your adventure faster than ever. Using strategically located QR codes placed at trailheads, park entrances, visitor centers, or even on path markers located mid-trail, a user simply needs to scan the QR code with their camera or QR code reader, and they will automatically be provided access to the relevant map product for that location.
Women Who Explore - Ashlyn George
Courage is a woman's best protection. Read more about what Women's Day means to solo adventure enthusiast, Ashlyn George, creator of 'The Lost Girl's Guide'.
Women Who Explore - Rebecca Walsh
She believed she could, and so she did. Read more about what Women's Day means to our avid app user, Rebecca Walsh, the founder of 'Hike like a Woman'
Leave No Trace Principles and Its Importance Today
We are certain our users are environmentally conscious individuals, why else would they switch from paper to paperless maps with our Avenza Maps mobile app! However, we enunciate these seven Leave No Trace principles as COVID-19 hygiene protocols have resulted in a tsunami of used personal protective equipment (PPE) scattered in places they shouldn't be.
Avenza Maps Turns 10 - The Top 10 Series
It's our fourth and final week of celebrating us turning 10. We really hope you've enjoyed these lists and have learned a few things about maps and Avenza Maps! Make sure to follow us on social to stay in touch about the next blog, news, or updates.
Celebrating 10 Years in Mobile Offline Mapping
Avenza Maps has come a long way since 2010 when the app was first conceived by Avenza Systems president, Ted Florence. Read how we have been providing the best mapping and cartography tools for the last 10 years now and our plans for the future too!
Achieve better GPS Accuracy in Avenza Maps with Trimble GPS Devices
Avenza has implemented the Trimble Precision SDK (Software Developer Kit) to integrate high-accuracy positioning capability in its Avenza Maps Pro app running on smartphones or tablets using Trimble GNSS receivers. Read more to perceive the benefits of this integration.
Sustainable land management begins with the right foundation
Hanna Gamble isn't your typical farmer, using her business background, she devised a management plan with the help of a forestry consultant which involved the use new GIS technologies to map the land. Read how Gamble used Avenza Maps Pro as a mobile solution for land management.
Let Avenza Maps Amuse You
These are unprecedented times and we are all looking for ways to amuse ourselves with many billions of people in the world currently told to keep close to home. Read more about activities that can be done in your backyard, or outside, near your home.
Elegant Solutions for Data Sharing and Mobile Mapping at West Virginia DEP
Nick Schaer wears many hats at the West Virginia Department of Environmental Protection (WVDEP). A few years ago, Schaer discovered Avenza Maps Pro, since then, he has used used with a variety of Trimble Devices to transmit more accurate GPS locations into the app. Read more about the benefits he has reaped being a Pro user.
Michelin joins the Avenza Map Store to Digitalize its Iconic Maps
Michelin's popular road and tourist maps and bundles are available in PDF format in the Avenza Map Store. This partnership will enable Michelin to meet consumer needs and address the increasing demand for mobile maps that include offline or off-network access and functionality.
Avenza Maps integrates what3words to enhance the Offline Navigation Experience
Avenza Maps integrates what3words so that users around the world can easily use precise what3words addresses to explore new destinations and navigate the globe. This will enable users accurate waypoints, plot their favorite points along hiking trails or cycling routes. Users can also easily identify their own location in extreme situations and report their precise location to potential rescuers, all using just three words.
How to Run a Photo Scavenger Hunt Using Avenza Maps
A photo scavenger hunt is a fun activity that groups of adults or families can participate in using the Avenza Maps app which has the added benefit of ensuring that participants don't lose their way during the event!